Eastern Conference Predictions
After going approximately 50% in the Western Conference, let's see if my predictions in the East were any better of if I should stick to my day job and never mind the Miss Cleo stuff.
Atlantic Division
1. Montreal Canadiens
Prediction: 2nd
I was one off on the Habs but this likely has more to do with the demise of the two Florida teams than with the play of the Habs. Montreal sits about where I expected them to be in terms of points. Two things now stand in the way of a Conference Final appearance. The first is getting healthy which they should have the luxury of doing given their cushion in the division. The second is GM Marc Bergevin being aggressive at the trade deadline. This team needs a left-handed defenseman to slide onto their top pairing, and they need a second line center, no offense to Philip Danault who has done more than expected in that role.
2. Ottawa Senators
Prediction: 11th
Full credit here goes to coach Guy Boucher who has taken a talented roster and succeeded in getting them to believe in playing a 200-foot game. Mike Condon has really allowed this team to give Craig Anderson some rest and some family time. The situation with his wife is understandably a good rallying point in the dressing room too, I'm sure. The team has been healthy. They'll be a very interesting team to watch in the Spring.
3. Toronto Maple Leafs
Prediction: 14th
The Leafs took the expected step in the right direction this season. It was a bigger step than anticipated as the team is now contending for the playoffs. The kids have been fun to watch and if not for a rather unkind learning curve in terms of "how to protect a lead in the NHL", this team might even be ahead of Ottawa. I still think they miss playoffs due to inexperience as teams start to turn it on down the stretch. Hopefully I'm wrong as it would be fun to watch Matthews and Marner perform in post-season action in Toronto.
Metropolitan Division
1. Washington Capitals
Prediction: 1st
They are where everyone placed them in the standings. What is most impressive is that they have stayed there with Alex Ovechkin not being on pace to score 50 goals. Can they finally take the next step come April and May?
2. Columbus Blue Jackets
Prediction: 13th
Who said hiring John Tortorella was stupid? Oh right, I did. This team is now sitting where most experts had placed them at the start of last season. It will be interesting to see if Torts stays as calm if ever the team lowers their level of play for a couple of games. Regardless, there will be playoffs in Ohio this season, unfortunately for the Blue Jackets, it looks like another match-up with the Penguins might be in store.
3. Pittsburgh Penguins
Prediction: 2nd
Emergence of the Blue Jackets places the Penguins lower than I thought, though not by much. Will they throw caution to the wind and trade Fleury to get help on the roster? Or will they throw caution to the wind and keep Fleury as the NHL's best back-up? If they go with option 2, it's because there are questions around Murray's ability to stay healthy and because another shot at a Cup is better than what is being offered for Fleury around the league, even knowing that he's likely headed to Vegas after the season in this situation.
Wild Card Qualifiers
7. New York Rangers
Prediction: 3rd
The Rangers have a comfortable lead in terms of Wild Card qualifying. Still, this team is pretty much as advertised as they mainly depend on the play of the blue line and goaltending to win games. Their scoring is not as bad as I portrayed it before the season started though.
8. Boston Bruins
Prediction: 8th
I was spot on here. This team has some great young talent in Carlo and Pastrnak but they lack depth. Julien keeps them here in the standings and rumours of his firing are puzzling. Not that I don't believe them. More so that the firing would send this team into a tail spin which would quickly lead to them having to rebuild.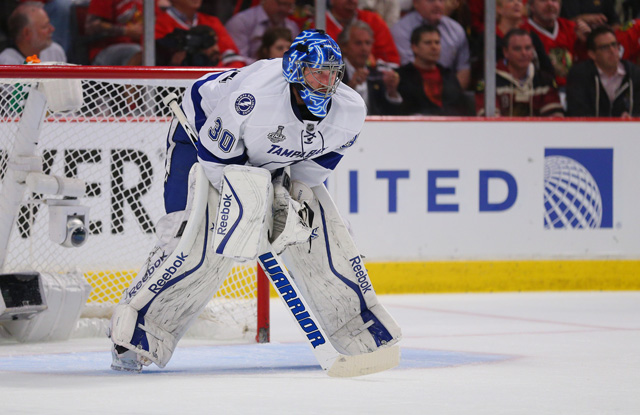 In the Hunt
9. Philadelphia Flyers
Prediction: 15th
The Flyers had a great winning streak, but have otherwise been as advertised. I still don't understand where this team is going and constant scratching for both Weise and Ghostisbehere should have the fan base equally confused. Unless they go on another 14-game winning streak, this is not a playoff team.
10. Florida Panthers
Prediction: 3rd
The changes continue in Florida as Tallon's solid core has been set back considerably. Who could have known that acquiring 6 of the same type of defensemen wasn't the best way to go? Oh yeah, anyone who watches the game and doesn't rely only on numbers. This team has to be the best proof that advanced stats don't tell the whole story. After the summer and the Gallant firing, I don't feel too bad for the Panthers being this low.
11. Carolina Hurricanes
Prediction: 9th
I wasn't too far off with the Hurricanes and if they can acquire a game-breaker, they could be in playoff contention as early as this year. It will be interesting to see if GM Ron Francis takes a swing at making it this season with the acquisition of a Matt Duchene, or if he opts to keep his large pool of prospects and acquires a big name free agent. Either way, this team isn't quite ready for the playoffs but they aren't far away either.
12. New Jersey Devils
Prediction: 16th
To be fair to GM Ray Shero, my assessment of looming disaster was off. The Devils can score, and Schneider is as advertised. Their D is not as terrible as I thought, though more work needs to be done. How much can be done on this roster with the known internal budget though?
13. Detroit Red Wings
Prediction: 10th
While only 4 points out of the playoffs, my belief is that there is a lack of depth at all positions on this team. This is why I think that this is not a playoff team. It is sad to see the great streak end, but it is time for some rebuilding in Detroit. This a team that has a good Canadian following and we are all about to see if they are truly fans or only fair weathered. As I wrote in September, there are only so many late round gems out there and this team needs a few seasons of getting better slotted draft picks to return to being contenders.
14. New York Islanders
Prediction: 7th
How does Garth Snow still have a job? Capuano being fired is logical, but Snow didn't help matters. Ladd has been a disaster and Tavares must be looking around him thinking that free agency may be the way to go shortly. Greiss has been decent but their handling of Halak can't be a convincing argument to any free agent considering a move to Brooklyn. They have some interesting kids but all free agents walk due to poor management. How will the Islanders ever be more than a glorified farm team? Something has to give… right?
15. Buffalo Sabres
Prediction: 12th
Lack of consistency from Lehner, injuries, and the veterans keep this team down. I'm not sure they rebuilt the right way. They are within striking distance of the playoffs, yet I certainly don't believe that this is a playoff roster. Should be interesting to see in what direction the roster is headed in the off-season.
16. Tampa Bay Lightning
Prediction: 1st
Hard to imagine the NHL being upset with their last place team being 5 points out of a playoff spot. Hard to imagine TSN being thrilled about having 0 Eastern Conference teams willing to sell at the trade deadline. It will be interesting to watch the Lightning, a team right up against the cap, deal at the deadline if they don't jump over a few teams by that time. I said they needed injuries to fail; still didn't expect it to be this bad.
In the end, I am predicting at about 50% in both Conferences. Surely not enough to win any pools, but enough to continue and to have some fun with these blogs. Hope you enjoy them.
Thanks for reading,
Kevin Léveillé
Follow me on Twitter: @kev1586